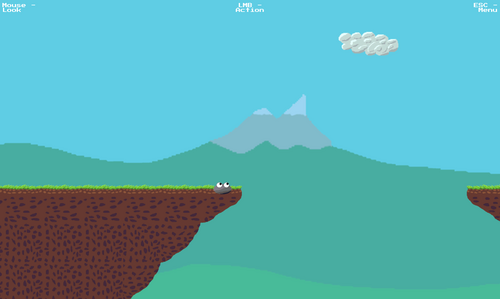 The theme for #1GAM 58 was Freedom. I immediately went off and did a POC of how to make an acceptable looking star system in 2D and then started building some complex random galaxy generation code to get the player exploring an endless galaxy... there wouldn't have been much to do in it though.
Then the 2nd Entelect internal development conference for the year happened and running the GameDev club stand landed squarely on me, since my cousin was already involved in 2 other social club stands. I called for demos that I could run at the stand, but nobody was keen, so instead I decided to do some live game development on the day...
I went and found the license I got from the Spine Kickstarter from about 4 years ago; downloaded Spine; figured out how to integrate Spine assets into Unity (a very easy process thanks to the great tutorials and documentation); then figured out how to skin Spine models so I could draw people into the game on the day of the conference. All this preparation was squashed into 3 hectic evenings, but I managed to get everything ready.
Then on the day I took photos of volunteers and tried to pixel-art them into the game - this is the bit where my art skills let me down a bit... in the 2 or so hours between presentations I could only manage about 2 people (plus myself from the setup process). Still the game now looks quite a bit better (left - before; right - after):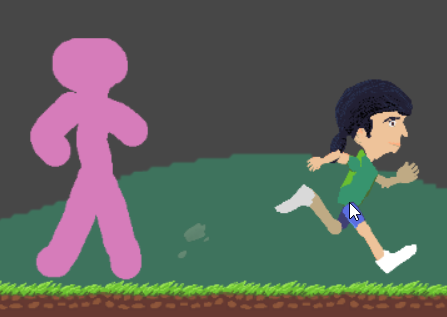 So I've released version 1.1 that's attached to this post. I'll admit the theme connection this month is a bit tenuous this month, but I'm quite happy with how quickly I was able to integrate Spine into the asset pipeline! I'll definitely try to spend some time in coming months to learn how to use Spine2D better - it's a very powerful tool and I only scratched the surface with this release.
Files
TheRock_Windows_1.1.zip
15 MB
Oct 02, 2017
TheRock_Mac_1.1.zip
19 MB
Oct 02, 2017
TheRock_Linux_1.1.zip
34 MB
Oct 02, 2017